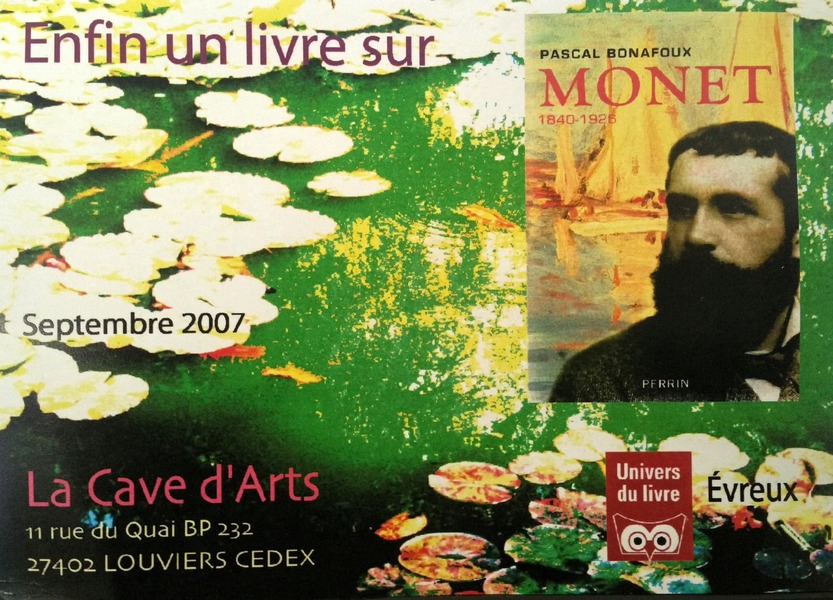 Tribute to Claude Monet (Louviers, France)

From September 1st to 30th 2007, Tribute to Claude Monet is the title of this collective exhibition presenting Pascal Bonafoux's new book "Monet" at La Cave d'Arts gallery in Louviers (France).
It will also include works by: David Boulanger, Claude Bonneterre, Christine Bouvier, Stephane Callouet, Clovis, Pierre-Marie Corbel, Gérard Crépel, Bernadette Delrieu, Herve Duval, Pierre Gentes, David Guilmet, François Jeune, Arnaud Leblanc, Agathe Le Lann, Jean Lemerre, Raphaëlle Pla, Philibert, Marie-Ange Rialland, Marie-Christine Robillard, Christian Sauvé, Genevieve Schwartz, Farzaneh Tafghodi, Elodie Thébault, Philippe Thibaut and Judith Wolfe.
The opening will take place on Saturday, 08 September 2007 at 17:30.
A conference by Pascal Bonafoux will be held on Saturday 22 at 16h at the Auditorium of the Library Boris Vian, followed by a dedication of his book Monet Perrin Editions, from 17:30.
La Cave d'Arts Gallery
11 quai street
27400 Louviers